The Arts
"Learning in, through, and about the arts stimulates creative action and response by engaging and connecting thinking, imagination, senses, and feelings. By participating in the arts, students' personal well-being is enhanced. As students express and interpret ideas within creative, aesthetic, and technological frameworks, their confidence to take risks is increased." New Zealand Curriculum, 2007
Opportunities for students to participate in both the Performing and Visual Arts are alive and well at Karori Normal School. Learning in the Arts compromises the four, including dance, drama, music and visual art. All learning programmes in the Arts at Karori Normal School, taught by either specialist teachers or classroom teachers.
Our Performing Arts programme
A wide range of performing arts experiences are available to students at Karori Normal School:
class-based music lessons taught by a specialist music teacher




choirs and a Year 7/8 Chorale




several bands




orchestral and ukulele groups




drum tuition




dance workshops




drama groups




productions/showcase




Artsplash




an annual Karori Normal School performing arts 'cushion' concert



The school is fortunate to have the expertise of a registered classroom teacher and music specialist. Throughout the year, this teacher provides all classes with a series of music lessons. Students listen, respond and move to music, play a range of pitched and unpitched instruments, create and improvise, and discuss and appreciate music.
Performing arts spaces
A well-equipped performing arts room and hall provide dedicated spaces for the performing arts. When performing large concerts and productions, we are grateful to the use of the Victoria University College of Education's very large Ward VC Hall & Auditorium, situated right next door to the school on Donald Street.
Choirs and the Chorale
Our choirs consist of a:
Year 3/4 choir (compulsory for all Year 3 & 4 students in terms 1 and 2)




Year 5/6 choir




Year 7/8 choir




Year 7/8 auditioned Chorale



All choirs meet weekly, during the school day, for a 45-minute rehearsal, and perform at concerts throughout the year. This year, the Chorale has performed at local rest homes.
Karori Normal School Chorale performing at Sprott House, August 2013
Artsplash
Karori Normal School participates in Wellington's annual Artsplash festival. Sponsored by Wellington City Council, Artsplash is a week-long Arts Festival at the Michael Fowler Centre that brings together primary schools throughout Wellington to celebrate dance, music, drama, visual art, and wearable art.
In 2013, 165 Karori Normal students performed in the Artsplash music concert, 40 Year 3/4 students in Dancesplash, 18 Year 7/8 students created and modelled wearable arts costumes, and 50 pieces of high-quality artwork were exhibited at the Artsplash gallery.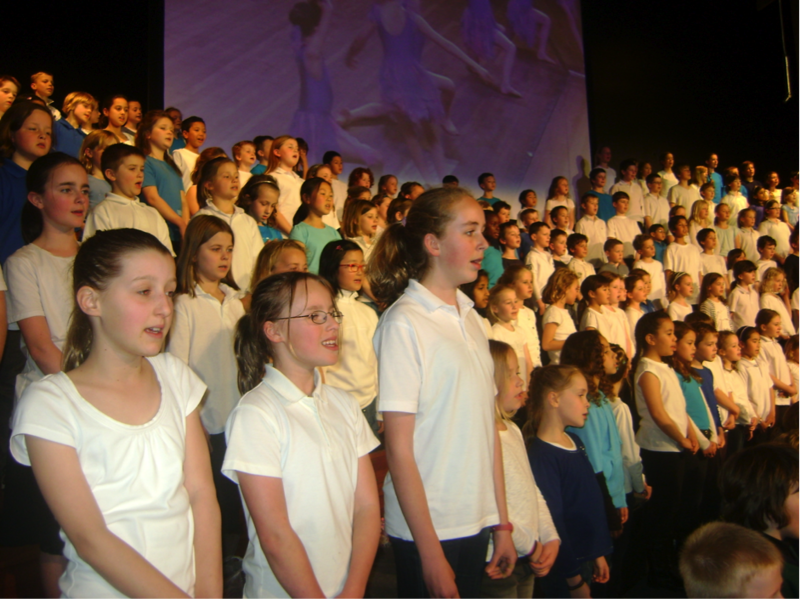 Karori Normal School choirs performing at Artsplash, September 2013
You can be assured that Karori Normal School's arts programmes will provide a space for students to nourish their interests.
For further information about the arts at Karori Normal, please contact the Arts Co-ordinator, Kane O'Connell.