Term Dates
2021 Term Dates
| | | |
| --- | --- | --- |
| | Start date | End date |
| Term 1 | Thursday 4 February | Friday 16 Apr |
| Term 2 | Monday 3 May | Friday 9 July |
| Term 3 | Monday 26 July | Friday 1 October |
| Term 4 | Monday 18 October | Thursday 16 December |
Schools will be closed in 2021 on the following days:
Waitangi Day - Monday 8 February 2021
Staff Only Day - Thursday 1 April 2021
Easter Holidays - Friday 2 April 2021 - Tuesday 6 April 2021
Staff Only Day - Friday 4 June 2021
Queen's Birthday – Monday 7 June 2021
Staff Only Day - Monday 13 September 2021
Labour Day – Monday 25 October 2021
School Hours
School commences at 8.55am and concludes at 3.00pm.
Morning interval 11.00am - 11.40 am
Lunch 1.00pm - 1.40 pm
We would prefer it if children did not arrive at school before 8.30am, as we are unable to provide supervision of children before school.
Lunch Orders

School lunches are available four days during the week.
All lunch orders need to be placed in the box at the student counter by 9.00am on that day.
School Lunch Order needs to be completed and stapled to the outside of the envelope. Correct change must be put in the envelope as no change will be returned.
Please pick up at the school office at lunchtime.
Hell Pizza - Wednesday (online)
Please pick up at the school hall at lunchtime.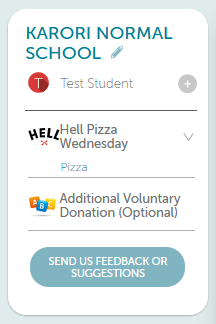 ezlunch lunch orders through our Kindo Shop
Available Wednesdays!
As of Wednesday 18 August, you can order your favourite Hell Pizza lunch through ezlunch by simply clicking here!
Order (or cancel) any time before 9am on the day or schedule in advance. Lunch will be delivered to the school in time for lunch. Click here to see the menu.
Orders are made online through your myKindo account. One account for the whole family! Get started now and be ready… Click here or go to www.mykindo.co.nz to start ordering!

for Apple and Android users
download the mykindo app.
Help? Visit support.mykindo.co.nz or tel. 09 869 5200 (0508 454636) weekdays 8am-4pm.
Subway Karori - Thursday (online)
Please pick up at the school office at lunchtime.
Our school lunches can be ordered using Lunchonline. This is an online service where parents/caregivers set up their own account, order lunch and pay online. The lunch is then delivered to school in time for our lunch break. Our Food Provider(s) offer healthy choices along with some treat options. So to view the menu or to set up an account and/or place an order, just click on the link below:

Mingdu Friday.pdf
Please pick up at the school office at lunchtime.
Stationery Lists
Stationery New Entrants 2021.pdf
Stationery Year 5 and 6 2021.pdf
Stationery Year 7 and 8 2021.pdf
Stationery Year 7 and 8 BYOD users only 2021.pdf
https://www.myschool.co.nz/kns
https://www.warehousestationery.co.nz/schoollist-show#searchType=schoollists-search-form&schoolId=B000042163&schoolClass=&filters=&start=0&sz=10