The Arts
"Learning in, through, and about the arts stimulates creative action and response by engaging and connecting thinking, imagination, senses, and feelings. By participating in the arts, students' personal well-being is enhanced. As students express and interpret ideas within creative, aesthetic, and technological frameworks, their confidence to take risks is increased." New Zealand Curriculum, 2007
"The arts are powerful forms of expression that recognise, value, and contribute to the unique bicultural and multicultural character of Aotearoa New Zealand. The arts have their own distinct languages that use both verbal and non-verbal conventions, mediated by selected processes and technologies. Through movement, sound, and image, the arts transform people's creative ideas into expressive works that communicate layered meanings." New Zealand Curriculum, 2007
Opportunities for students to participate in both the performing and visual arts are alive and well at Karori Normal School. The arts learning area compromises four disciplines: dance, drama, music, and visual arts. Our learning programmes in the arts at Karori Normal School are either taught by specialist teachers or classroom teachers.
The musical and performing arts opportunities provided to students at Karori Normal School are varied, and include the following:
Choirs and Chorale
Ms Jacqueline Ward directs our choirs and the Chorale. The Year 5/6 choir and Year 7/8 choir are optional and non-auditioned, while the Year 7/8 Chorale is an auditioned choir for singers who wish to extend their performance experience (members must also be in the Year 7/8 choir). All choirs meet weekly, during the school day, for a 45 minute rehearsal, and perform at concerts throughout the year, including at Artsplash, the Years 5-8 Cushion Concert, and at assemblies. The Chorale's programme also includes performances within the community, such as at local rest homes. All students in Years 1-4 attend weekly or fortnightly singing sessions with Ms Ward, although for Year 3/4 students, in Terms 2 and 3, this is only for those who have elected to participate in Artsplash.
Artsplash Choirs 2019
Karori Normal School's Artsplash choirs will perform at Artsplash on Monday 16 September 2019, 7:30pm at the Michael Fowler Centre.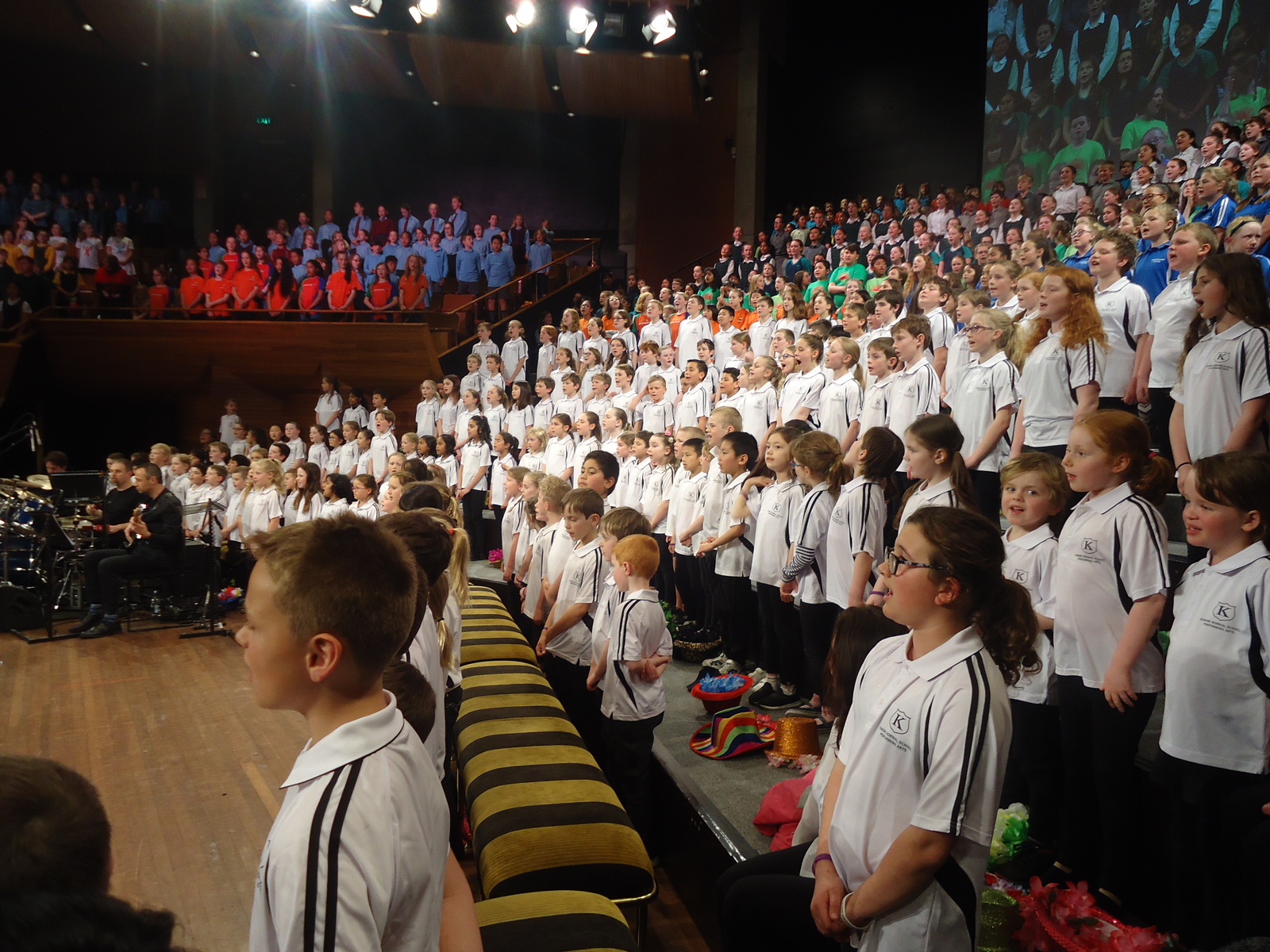 Karori Normal School's Years 3 – 8 choirs perform at Artsplash, September 2018
Orchestra
Year 5-8 students are encouraged to join the school orchestra if they can read music with some fluency and are having lessons on their instruments. An audition may be required. A broad range of instruments is included in the orchestra. Rehearsals are held on Wednesdays.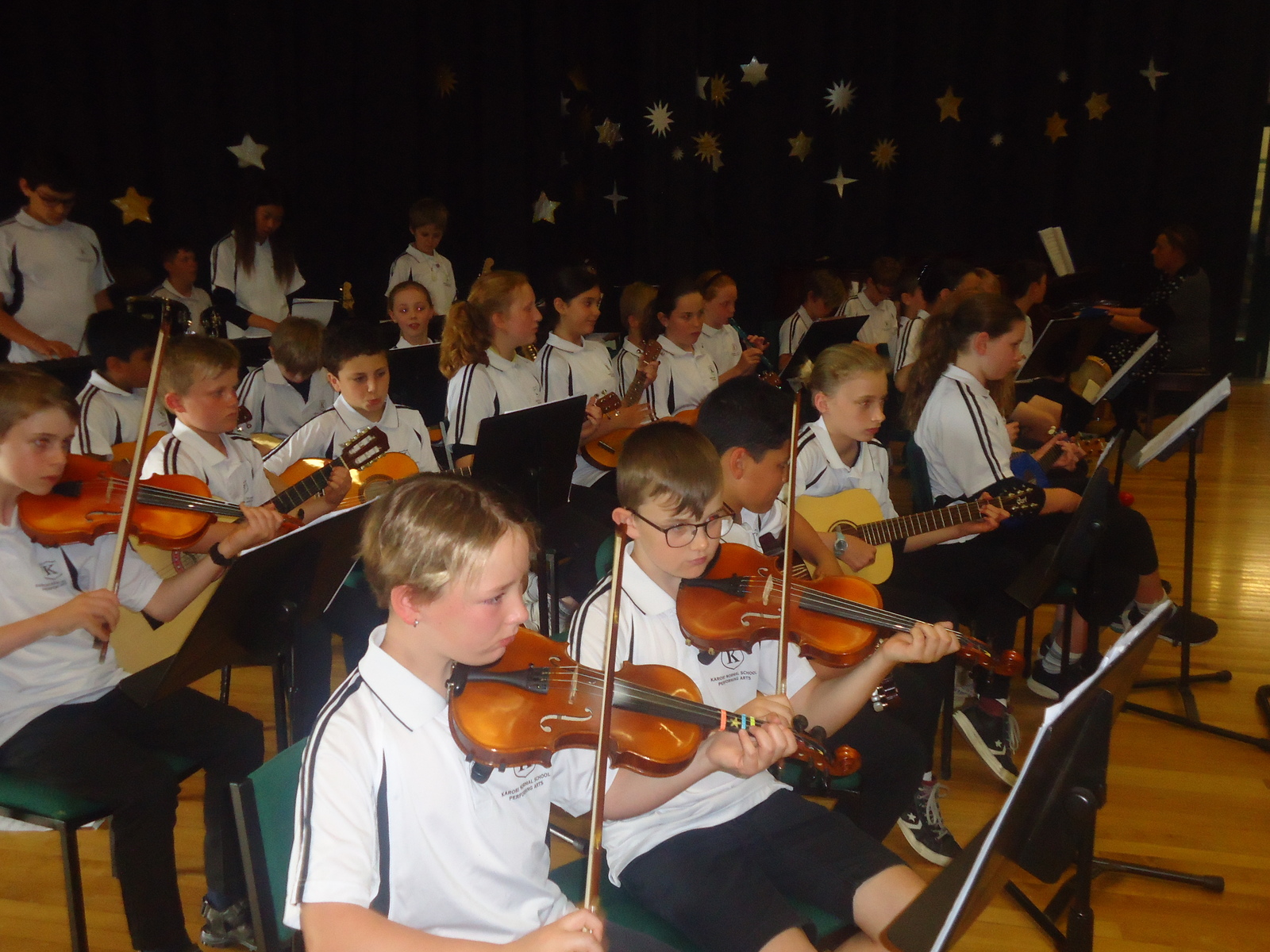 Orchestra performance at the Years 5 – 8 Cushion Concert, December 2018
Ukulele
Commencing at various times throughout the year, beginner and/or intermediate ukulele lessons will be offered, in small groups during school time.
Instrumental groups
In small groups, there may be opportunities for students to learn other instruments, such as keyboard, guitar, and recorder. This is dependent on timetabling and availability of space.
Dance
It is our intention to continue with a lunch time dance crew for Year 5-8 students. This group will work on dances throughout the year for a range of performances.
Dancesplash 2019
Karori Normal School's Years 1 – 4 and Years 5 – 8 Dancesplash teams will perform at Dancesplash on Thursday 19 September 2019, 7:45pm at the Michael Fowler Centre. During Term 2, students across the school will be invited to participate in our Dancesplash teams.
Karori Normal School's Years 1 - 4 Dancesplash team performance, September 2018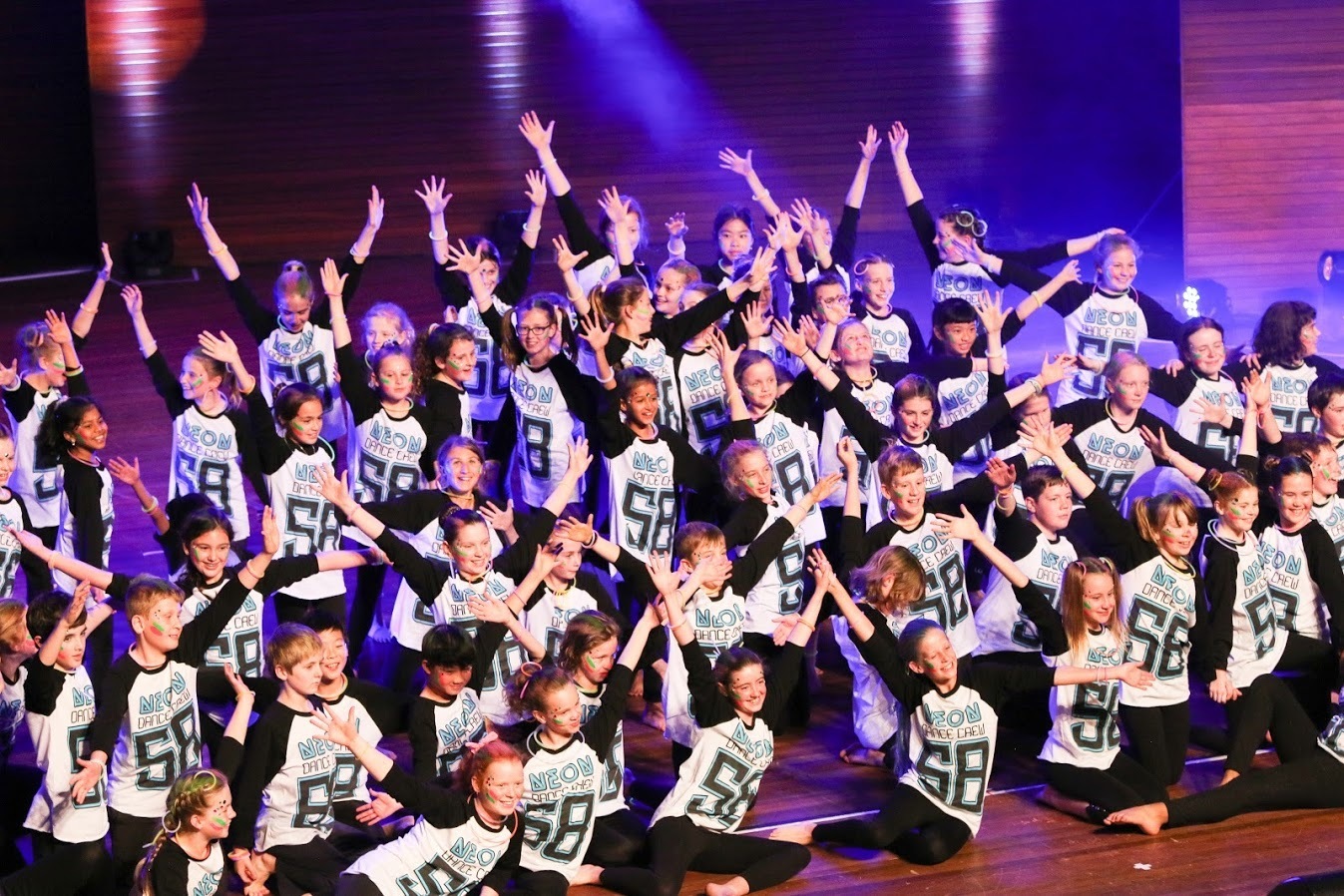 Karori Normal School's Years 5 - 8 Dancesplash team performance, September 2018
Kapa Haka
All students participate in regular Kapa Haka sessions where they will learn Te Reo Māori through waiata and games. These sessions are led by Hemi Prime and run for 30 minutes on Tuesday mornings.
Bands
Mr David Wong runs a number of bands that meet weekly before school and at lunchtimes for 50 minutes. Performances include the Cushion Concert, assemblies, gala, lunchtime performances, and one band is chosen to represent the school at the Wellington Intermediate Battle of the Bands. Singers and instrumentalists for bands have to audition. Students need to have at least a year's experience or be having lessons. Band is only offered to Year 7 and 8 students.
We encourage students at Karori Normal School to make the most of these performing arts opportunities. We value your support and look forward to a wonderful year of music making. Your feedback in relation to our performing arts programme is very much appreciated, so please don't hesitate to contact us with any ideas or suggestions.
If you have any further questions, please contact Kane O'Connell (Arts Co-ordinator), either in Room 22, by email (koconnell@kns.school.nz) or phone (476 7209 ext 822).